The Heart of the Clinic is our Staff
We are very fortunate to have a staff of individuals who believe in and are truly supportive of UCAN's mission. Our staff is dedicated to providing the best care possible for every animal that the clinic serves. Without their experience and tireless professionalism, we could not accomplish what we do every day.
Melanie Corwin
Executive Director
---
Melanie has been the Executive Director of UCAN since July 2012. She was a member of the Board of Directors of UCAN for several years prior to that, serving as a Director, then as Vice-Chair and eventually as Chair of the Board. Her focus as Executive Director is grant writing, development, marketing, risk management, and overseeing the operations of the clinic and the consignment store, Wags to Riches, which is a permanent funding source for the clinic.
Melanie became interested in spay/neuter after volunteering at a no-kill shelter for 9 years and becoming frustrated when after celebrating each adoption, more animals just kept coming in to fill the empty cages. She realized that spay/neuter was the solution, so became involved with UCAN.
Prior to UCAN, Melanie worked as an attorney in private practice for 25 years, focusing on profit and nonprofit corporate law, general business law and securities law.
Melanie enjoys playing with her 5 rescue animals, two dogs (Peanut and Blackie) and three cats (Katniss, Grayson and Calypso).
Jessica Klaers
Clinic Manager
---
Jessica joined UCAN in February 2014 as the clinic manager. She is responsible for the day-to-day operations of the clinic. She had previously worked in the veterinary field for 8 years at Banfield Pet Hospital and in management for over 15 years. She attended St. Cloud State University where she acquired a major in Psychology and a minor in Sociology.
Working at UCAN has been very rewarding for Jessica, it has been a great way for her to combine the love she has for both people and pets alike.
Jessica has called Cincinnati home for the past four years with her rescue dog, Olive, and her cat, Baghera.
Amy Strabala, DVM
Medical Director
---
Amy joined the clinic in January 2014. She previously worked for Banfield Pet Hospital for 8 years, gaining substantial experience in veterinary medicine. Amy has experience in many aspects of small animal veterinary medicine and finds particular interest and joy in surgery and UCAN's mission.
Amy grew up in Northeast Ohio where she graduated with a Bachelor of Science Degree in Zoology and pre-veterinary medicine from Kent State University. She went on to receive her doctorate of veterinary medicine degree from The Ohio State University in 2005.
She has had many pets of a wide variety since a child. She currently has a happy and energetic lab mix named Indy.
Elizabeth Sandfoss, DVM
Veterinarian
---
Liz graduated from Auburn University College of Veterinary Medicine in 2003. She completed her undergraduate degree at Northern Kentucky University. She has worked for private and corporate small animal clinics since graduation. She feels fortunate to have joined the UCAN team in August of 2015 and is thrilled to be here and to be supporting our mission. She believes that by offering low cost spaying and neutering we can drastically reduce the euthanasia rates in our shelters in the Tri-state area.
She resides in the Northern Kentucky area with her 3 beautiful children and her 2 dogs, Owen and Louie, and her cat, Belle. She loves to spend time with her kids and watch their numerous sporting events. She also loves to read and watch football when time allows.
Hannah Rice, DVM
Veterinarian
---
Hannah graduated from the University of Georgia College of Veterinary Medicine in 2014 after obtaining a BS in molecular genetics from Ohio State University. She spent two years in general practice and became particularly attracted to surgery after working with HART rescue through a private practice. She truly believes in the mission of UCAN to decrease pet homelessness through spay and neuter and is excited to be part of the team.
She lives in Cincinnati with her husband, her dog Bailey, and her cats, Smokie and Blackie. She enjoys reading and spending time with her church friends and family at various functions around the city.
Danielle Merrill
Lead Registered Veterinary Technician
---
Danielle (Dani) started at UCAN in September 2012, and became the Lead Registered Veterinary Technician in April 2015. Dani and her husband, Jamie, reside in Bethel with their one year old daughter, Harper.
Dani worked at a small animal hospital for 9 months and decided to go to school for a veterinary technician degree. She graduated in September 2012 from Brown Mackie College with a degree in animal science and passed her state exam to be a Registered Veterinarian Technician in the State of Ohio. She began as an intern at UCAN while she was in college. She soon realized she had a very strong passion for UCAN's mission and decided to pursue her career with UCAN.
Dani enjoys spending time with her family, which also consists of her Great Dane, Bently.
Carly Tensing
Registered Veterinary Technician
---
Carly joined the UCAN team in October 2015. She graduated from Brown Mackie College with an Associate of Applied Science Degree in Veterinary Technology in 2013.
Prior to joining the staff at UCAN, Carly worked at Banfield Pet Hospital for a year and a half.
Some of Carly's hobbies include horseback riding, hiking, and reading.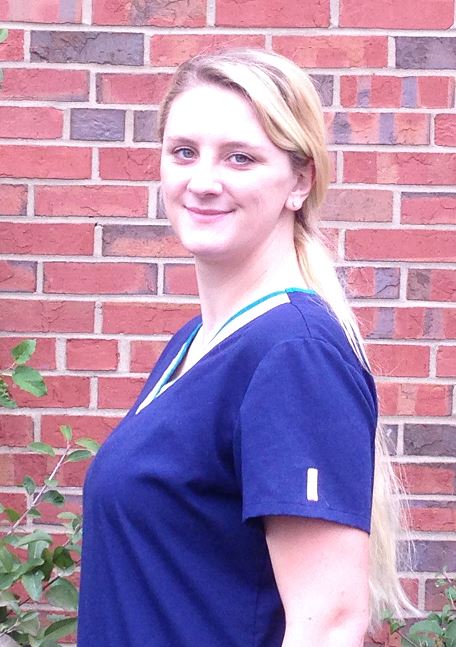 Sarah Long
Registered Veterinary Technician
---
Sarah started at UCAN in September of 2016. She completed her Associate of Applied Science in Veterinary Technology in 2012, after graduating from Brown Macke College.
In the evenings, she teaches dog agility classes and spends most of her weekends showing her rescued dogs Shasta an Australian Shepherd, Hemi a Border Collie and her Sheltie, Sasha. Her house is also shared with four rescue cats, Callie Marie, Tabby Jean, Thumper Ash and Stormy Faith.
Elizabeth (Beth) Baker
Registered Veterinary Technician
---
Elizabeth was born and raised in Cincinnati. She moved to the East Coast after graduating in 1995 from Midway College with an Equine Studies Degree. While living in Maryland, she realized her potential wasn't fulfilled and so she became a Registered Veterinary Technician in 2005.
A recent move back to Cincinnati to be closer to family also brought her to UCAN in October 2016.Beth has three "fur babies" - two cats named Friday and Munchkin and a rat named Freyja.
Christina Benedict
Registered Veterinary Technician
---
Christina started with UCAN in December 2016; she graduated from the University of Cincinnati, Blue Ash, with an Associate of Applied Science in Veterinary Technology in April 2016. Previously, Christina spent four years as a Kennel Technician in a private veterinary practice.
She lives in Cincinnati with her rescue dog Max, a pit-lab mix, and is looking forward to adopting a cat soon!
Shelby Walsh
Veterinary Assistant
---
Shelby began working for UCAN in August 2014, first as a Surgical Aide making surgical packs and then, beginning in April 2015, as a Veterinary Assistant. Before UCAN, Shelby worked at Banfield Pet Hospital in Mason for two years.
She has a son who means the world to her.
Shelby's family also includes two cats, Miss Polly and Zaps, that she rescued from UCAN and a Shih Tzu named Carl.
Anna Morris
Veterinary Assistant
---
Anna started with UCAN in January 2017. Prior to joining UCAN, she worked at Banfield Pet Hospital in Milford for two years.
She began working with animals when she was 15 and fell in love with it. Along the way, she adopted 2 cats, Remington Steele and Thackery Binx.
Anna Currently resides in Batavia with her boyfriend, Jake, and his rescue dog Breezy.
Mindi McCarthy
Surgical Aide
---
Mindi started working at UCAN in April 2015. She is responsible for putting together all of the surgical packs for surgery, cleaning instruments and cages and otherwise assisting the medical staff as needed.
Mollie McGinnis
Medical Record Specialist
---
Mollie started at UCAN in August 2012 as a receptionist at our front desk. After taking a break to attend school, Mollie came back in December 2014. Mollie graduated from Northern Kentucky University in December 2016, with a degree in Criminal Justice. She will begin school to obtain her master's degree at the University of Cincinnati this May, while working part-time at UCAN. She performs the invoicing for all of the clients who obtain services at the clinic each day and also assists with many other tasks.
Mollie is crazy about Boston Terriers and is particularly crazy about her own sweet Boston, Bailee, who she loves dearly.
Erin Mallery
Transport Specialist
---
Erin began working at UCAN in October 2013. She is responsible for scheduling the clients on all of the free transports that UCAN schedules. She completes the admission paperwork for clients over the phone and assists them in checking-in on the mornings of the transports.
She and her partner, Edward of ten years, have three crazy rescue dogs, Timmi, Jack and Scarlett.
Randy Picadio, Sr.
Transport and Facilities Coordinator
---
Randy Picadio, Sr. joined UCAN in May 2017. He takes extraordinary good care of all of the animals on our free transports from various locations, so everyone has access to our low-cost services. He is also responsible for keeping our facilities and transport vehicles in good working order and repair.
Randy was formerly a Police Sergeant with the Village of Elmwood Place for 10 years. Prior to that, he was Deputy Sheriff with the Hamilton County Sheriff Office for 15 years.
He currently resides in Butler County with his wife. They have four grown children, a dog named Duke, and a cat named Milo. He enjoys riding his Harley in his spare time.
Donna Cruze
Board, Development and Executive Assistant
---
Donna, along with her husband Dale, are natives of Kentucky. She began working as an Executive Assistant at UCAN in 2012. She helps with marketing, donor communications, fundraising events, the bookkeeping for the consignment store and much more! Prior to UCAN, she was an Administrative Assistant in two local law firms for over 13 years.
Donna and Dale have two grown children, Christopher and Crystal. She has one fur baby named Chloe. Chloe is a Golden Retriever mix, who was rescued from a puppy mill situation. Donna enjoys being able to help so many people and animals at UCAN.